Process Monitoring for
Advanced Manufacturing

Laser Cladding & DED
Automation Acoustics technology is detecting sub-surface faults in laser cladding processes.

Thermal Spray
Our acoustic analysis platform is being used to identify nozzle blockages and other faults in thermal spray processes.

Wire Arc Additive Manufacturing
The addition of acoustic monitoring has enabled early fault detection in wire arc additive manufacturing.
---
Acoustic Monitoring
The missing piece of Industry 4.0
---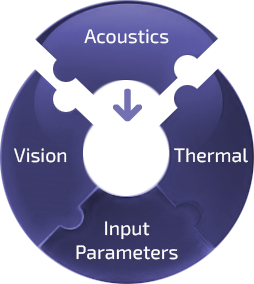 Every process, every fault emits a unique sound.
---
Correlating specific sounds with critical faults enables real-time corrective action.
A Digital Twin generated from acoustic data visualizes where and when process non-conformance occurs.
With the right technology, enclosed Advanced Manufacturing cells are a rich source of process knowledge.
Acoustics are high resolution / low data intensity, enabling a complete process understanding.
Acoustics are your competitive advantage.
---
Integrate Digital Acoustics for Productivity
---
Capability
Informed decision-making
Enhance digital skills
Translate knowledge into procedures
"Monitor the process, not only the input parameters"
Sustainability
Increase production yield
Prevent product to scrap
Reduce uncontrolled process variation
"Skilled team members know when the process sounds right"
Productivity
Interactive Digital Twins
Minimize the cost of Quality
Continuously improving Machine Learning models
Combine Continuous Improvement with Digital Transformation
3 steps

to competitive advantage with Automation Acoustics...
1. Feasibility
Correlate acoustics with the specific issues that impact production quality.
2. Calibration
Customise proprietary algorithms to consistently identify the specific issues.
3. Integration
Implement real-time & digital twin capabilities that enhance productivity.